Air source heat pumps pay for themselves at least 5 times over their lifetime and can reduce heating and hot water bills by up to 80%
Incredible efficiency and savings
Installing an air source heat pump is one of the best routes to savings with amazing returns for home and building owners. For every 1kWh of energy consumed the heat pump can produce up to 5kWh of thermal energy. Our heat pumps typically pay for themselves within 3.5 years or even less if you receive government subsidies or a grant for the system.
Unit Combinations
The TermoPlus® air-source heat pumps require a combination of two units – an indoor unit and an outdoor unit. The indoor unit can either be a Hydrobox, which provides heating only, or a Hydrotank which produces both heating and domestic hot water (for showering, dishwashing etc.). The TermoPlus® air source heat pump range is designed to work with Mitsubishi outdoor units that provide both heating and cooling: either a Power Inverter unit or a Zubadan unit. The main difference between the two is that the Zubadan can operate in colder environments than the Power Inverter.
Why Mitsubishi Zubadan or Eco/Power Inverter?
Mitsubishi's Zubadan series is the market leader for outdoor air-source heat pump units due to their outstanding efficiency and reliability. The Power Inverter is one of the most established outdoor units for newer homes and the Eco Inverter series is extremely efficient. For that reason TermoPlus® created indoor units that can make the Zubadan, Power Inverter or Eco Inverter an even better investment for homeowners. Our Hydrobox and Hydrotank ranges are fully compatible with the outdoor units but also fully customisable for a higher-performing installation. A Termoplus indoor unit with a Zubadan, Eco Inverter or Power Inverter outdoor unit make an unbeatable combination of efficiency and reliability.
The split series is the only one in the market with a heating power up to 14kW using R32 refrigerant also providing extreme protection against freezing. Some of the latest features include reversible functionality (which can be used for heating and cooling) and support for longer piping lengths (which makes them more flexible to place). The latest units are also ultra quiet and extremely efficient.

Guaranteed to last
TermoPlus's very first heat pump built in 1984 is still fully operational. The minimum life expectancy of all our heat pumps is 25 years and they are covered by a 3+3 year warranty. This means that with a quick check-up every year you are guaranteed 6 years of absolute peace of mind. We'll support our products for their entire lifetime and guarantee spare part availability. Find out more about the TermoPlus promise.

Incredible efficiency and savings
With a heaterless design there is no power requirement for an electric heater. You will enjoy the same comfort without a heating element which would use more energy. The TermoPlus – Mitsubishi combination with energy efficient inverter technology delivers significant efficiency and unmatched real savings.
Flexible and compatible
The combination is suitable for floor, radiator and fan coil heating in new buildings or as a renovation of existing heating systems. The units can also work in conjunction with an external heat source such as a biomass, a boiler or a woodstove and take up very little space.
Optimized performance
Performance is boosted in our indoor units but not at the expense of compatibility – the original Mitsubishi weather compensated control is retained along with all features (see in detail below*). Switching between water and space heating is automatic and adequate capacity is ensured so that a storage tank is not required.
Constant availability
You will have uninterrupted hot water with our hydrotank as it uses an external large-surface condenser that heats water up faster due to its larger heat transfer surface.
All-season use
The outdoor units can function at temperatures as low as -20°c for the Power Inverters and -28°c for Zubadans (with full heating capacity even at -15°c for the Zubadan).
Function-packed but easy to use
A multi-functional controller provides optimal management with programmes such as automatic anti- legionella, floor drying, holiday mode and a weekly timer. Web control via app is optionally available and includes an efficiency monitoring feature. Two-zone heating is also available as an option.
Reliable and durable
TermoPlus units can operate longer than others in harsher conditions due to their larger evaporator and optimized fin spacing and the Mitsubishi outdoor units have a proven record of reliability in tough conditions.
Long lasting and easy to maintain
Maintenance is easy to perform since all components are easily accessible. TermoPlus hydrotanks also feature complete anti-corrosion protection through the use of a top quality enamelled water tank with a build-in MG anode.
Quiet and unobtrusive
Both the indoor and outdoor units are both extremely quiet and compact. Using a TermoPlus hydrotank to replace a hydrobox / hot water heater also saves space and makes for a seamless, out-of-sight solution.
Maximum safety
All units run an automated anti-legionella programme even without an additional electric heater and by design the hydrotank uses an indirect heating condenser to prevent the risk of refrigerant leakage into sanitary hot water.
All original Mitsubishi control features are retained: Auto-defrost, automatic switching between DHW and heating / cooling, automatic anti-legionella program, control of external heating source , DHW and heating timers *, 2 zone control *, floor dry function*, monitoring of consumed and produced energy (COP)* , access via web and mobile app* , master for cascade connection* (Features followed by * are optional)
SPLIT vs MONOBLOC HEAT PUMPS
Split heat pumps
Split heat pump systems consist of two separate units: an indoor unit and an outdoor unit.
The indoor unit contains the heat exchanger and the internal hydraulic system components while the outdoor unit contains the compressor, aircooled heat exchanger, inverter and the expansion valve. The two units are connected by refrigerant lines that transport the refrigerant between them.
Some advantages of our Split units:
Longer piping lengths allow for more flexible
installation.
Greater protection against the freezing
temperatures. Due to the refrigerant
connection, there is no chance of the system
freezing, even in the event of a power cut.
The use of anti-freeze is not necessary, nor is
the installation of additional heat exchangers.
Monobloc heat pumps
Monobloc heat pump systems house all the key components in the external unit and transfer the heat indoors without the use of a refrigerant line.The heated or cooled water is pumped directly into the internal unit which handles distribution.
Our Monobloc heat pumps are Fully Hydronic, which means they circulate refrigerant only within the external unit and use water to transfer heat inside. As a result, they offer distinct advantages:
Use of standard heating pipes between exterior
and interior.
The system offers greater protection against
refrigerant leaks and can be installed without a
refrigerant-qualified engineer.
More flexible placement options for the
outdoor unit due to the lack of refrigerant
pipes.
OPTIONS & FEATURE UPGRADES
Wi-Fi module
With the wireless adapter installed. the heat pump can be operated with the MELCIoud app even when you are not at home. The application enables control of the basic settings of the heat pump's operation. Optionally, the amounts of heat and power can be monitored along with the efficiency of the heat pump.
Cascade operation
The cascade operation allows the connection and operation of up to six heat pumps into one heating system. Doing this can achieve a maximum heating power of up to 138 kW. This large amount of heating power is ideally suited for multi- apartment buildings, hotels, industrial plants and other business facilities.
Remote Control
The wireless remote control makes it easy to operate the heat pump from the comfort of your armchair. The device is portable and can be operated from any space without the need for wiring. The built-in sensor tracks the room temperature, constantly ensuring comfort.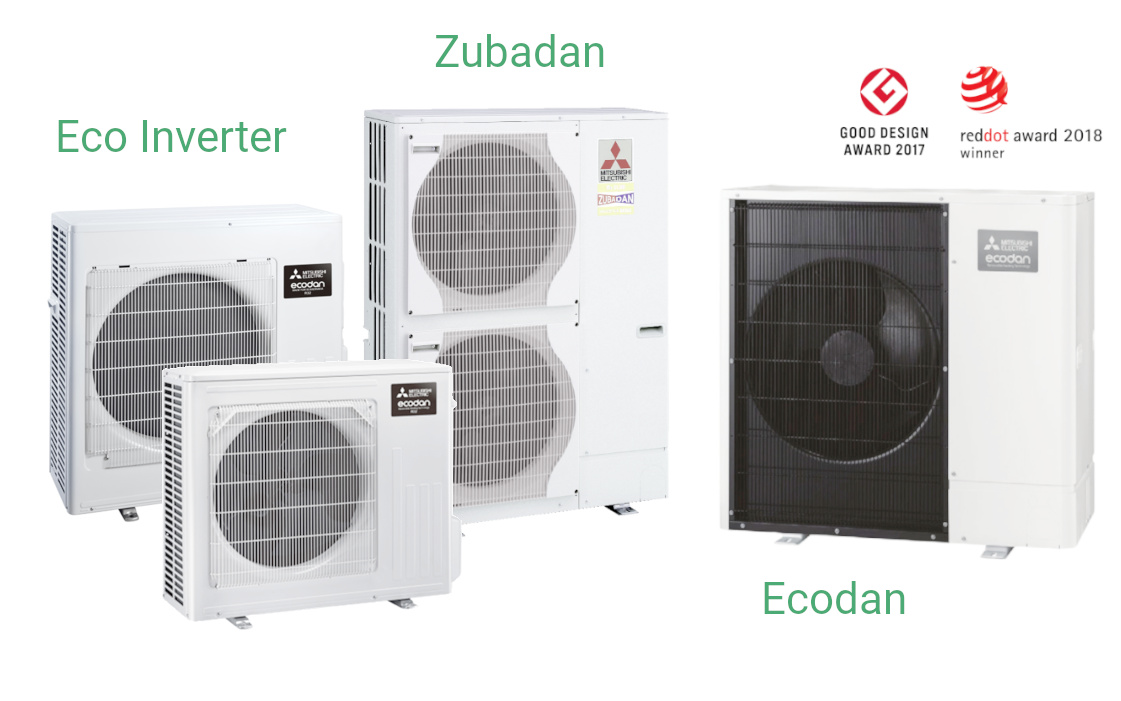 The TermoPlus Hydrobox and Hydrotank units are compatible with specific Mitsubishi external units from the Ecodan, EcoInverter and Zubadan ranges. The corresponding Mitsubishi external units come paired as a standard bundle with the purchase of any TermoPlus air-source heat pump.
These unit combinations offer exceptional reliability, silent operation and great efficiency.
FREQUENTLY ASKED QUESTIONS (FAQ)